Important action needed for 2015 Affordable Care Act

For each Sage 100 ERP company, it is important that the "Retain Perpetual History" option is activated in order to meet 2015 Affordable Care Act (ACA) reporting requirements. This feature ensures that customers will be collecting the proper data as they process their first payroll in 2015.

The Retain Perpetual History option is found in Payroll Setup Options, screen shot below. Additional details will be provided in early December.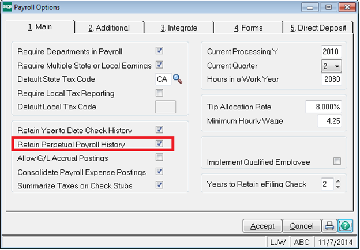 Exciting Sage Mobile Sales news
We're very excited to announce that an updated Sage Mobile Sales app will be available in early December that includes new customer-requested features, improved workflows, lower activation fees, and compatibility with Windows 8 touchscreen laptops and Surface Pro tablets in addition to iPads.* The updated app remains compatible with the current versions of Sage 100 and 300 ERP.**
Reps are empowered to generate more revenue and close bigger deals using Sage Mobile Sales in the office, at a customer site, or wherever they may be. They'll deliver a great customer experience and close bigger deals using intelligence on their customer, such as the new 24-month item purchase history, which displays beginning with the customer's most recent purchase, the item purchase price, purchase date, and invoice number. Sales management can now restrict reps' access to only their assigned customers using the new Customer Access Control features. All the customer, inventory, and transaction information on the rep's laptop or tablet is automatically linked to the Sage ERP system flowing through the Sage Data Cloud.
| | |
| --- | --- |
| | Look for the new icon in the Apple App and Windows app store in early December, and updated sales tools on Sage Sell coming soon. |
Sage Mobile Sales new features:
Item purchase history shows sales reps which items that their customer has purchased over the last 24 months, when the item was last purchased, and how many. It also shows customers' year-to-date purchases next to the previous year, for at-a-glance trend information.
Customer access control restricts which customers that the reps can see, to keep them focused on only the customers that are assigned to them.
Add item button is always visible when adding to an existing quote.
Customer screen makes it easier to read and locate information, such as monthly and year-to-date sales, frequently purchased items, and more.
Lower activation fees:
One-time activation fee is now $99 per company.
If you missed this November 13 preview webcast, you can view the recording.
*Compatible with iPad 2 and up, Windows Surface Pro tablets, and Windows 8.1 Pro touchscreen laptops
**Compatible with Sage 100 ERP 2014 and 2013, Sage 300 ERP 2014 and 2012
Sage CRM Cloud version 2014 R2 is targeted for release November 23, 2014—see webcast details below
In November, all North American customers on Sage CRM Professional, our cloud version of Sage CRM, will be automatically upgraded to a new exciting Sage CRM release. The new release includes a new contemporary user experience, intuitive design, and tools that help boost team productivity—so everyone can focus on accelerating business growth.
The Sage CRM playbook on Sage Sell has been updated with information about this release—including Sage CRM what's new and a presentation that walks through the new user interface.
To prepare for the release changes, our Sage CRM cloud customers will be sent an email on October 20—offering them free and optional access to an online demo version that will be available 30 days prior to the new release. This early access demo site will let them experience the new features before they are upgraded to Sage CRM 2014 R2. Please refer to the early access program FAQ for details.
Sage CRM 2014 R2 new features
New contemporary user interface with a cleaner navigation menu, a new icon set, new fonts and headers, new colors and styles, new color-coded messages, new graphs including sales, and case pipelines
Getting started page to help users get up and running quickly and easily and learn how to navigate through Sage CRM
Sales dashboards so sales directors and sales managers can get a complete view of how sales teams are performing against targets and know where the business stands at all times
Quick access toolbar so users can more easily find important customer information—faster and easier than ever before
Improved mobile experience so each team can access their information anywhere, anytime, on any device
Favorites that allow users to tag important information for future quick and easy access
Keyword search so users can now search everything from one convenient place
Partner webcast: Sage CRM news
Join us for an overview of Sage CRM and hear about our new Sage CRM 2014 R2 cloud release scheduled for November 23, which includes a new contemporary user experience, intuitive design, and tools to help boost team productivity. During this presentation, we will cover:
A sneak feature preview into upcoming Sage CRM 7.3, and Sage CRM roadmap plans
Sales, channel, and marketing activities
Marketing and sales tools that are available to help you sell now.
Where we see your best opportunities are for selling Sage CRM.
Sage CRM, cloud or on-premises, offers you a strong value-added solution for your existing customers—or a compelling and competitive solution that can be sold as a standalone.
For more information, please refer to the Sage CRM playbook on Sage Sell.
Tuesday, November, 18 at 11 a.m. PT/2 p.m. ET
Sage HRMS cross-sell opportunities
When you offer Sage HRMS as part of the Sage portfolio, not only does that increase the Sage footprint with your customers, it provides increased stickiness with ERP opportunities—and you gain the competitive advantage over other end-to-end solutions.
The cross-sell referral program offerings for Sage HRMS continue to add tremendous value to deals by positioning that solution for payroll and employee management. Please refer to the new Sage HRMS Cross Sell Referral Programs document for complete details.
We are available to assist and make it easy for you to increase your revenue and earn tier credits. Be sure to present Sage HRMS as a resource to your new and existing customers. Contact Chris Goheen or Cristine Hamilton for additional information.