Sage Abra Payroll
---
Quarterly Tax Update Schedule
To provide more opportunity for our customers on version 7.8 to upgrade their Abra product, we are extending the Quarterly Tax Update. Please review the updated schedule below. For users with Sage Abra Payroll functionality, the chart below provides the Quarterly Tax Updates schedule for a given period and supported versions of Sage Abra.
March 2012 will be the last Tax Update provided for Sage Abra Suite v7.8x.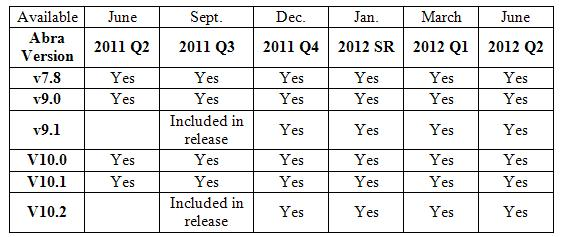 This information is current as of today but there may be changes to the scheduled Tax Updates for any particular version. Please review Knowledgebase Article fltskbx21818 on the SupportPlus Online website.
Note: If you are also using Sage Abra Workforce Connections OR Sage Abra Benefits Messenger at your location, please contact Customer Support or your Business Parnter before performing a software upgrade.